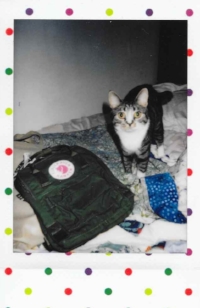 I'm a stand up comedian, writer, and actress. In addition, I have a large amount of respect for authority figures, an extensive Disney pin collection, and a Bug Out Bag for when the S.H.T.F.
I host a stand up show every third Saturday of the month at 11:30pm with comedian Jim Tews at the UCB SubCulture called Fresh Out! NY.
I teach 10-year-olds stand up at Gotham Comedy Club.
I was a writer for Nat Geo Explorer where I took a shot of Wild Turkey with Dan Rather and was held in a loving embrace by Jeff Goldblum.
I was an actress on the UCB Maude teams The Prom and Absolutely, as well as the all-lady sketch show Bullshit Women.
I've been in commercials for all your favorite household products (Febreeze, Scrubbing Bubbles, and Seamless).
In college, I won an award from the Associated Press for general news reporting for writing about a county board member with ties to dog fighting.
And I have written an erotic novel called The Kings Property, which details the adventures of Fritz and the last honest men in the apocalypse.
Casually hanging out with friends